How many deleted records do you want back in your SuiteCRM software? Five, Ten, more than fifty? Do you think that it takes a whole day to restore those deleted records? Unlike other products, SuiteCRM Recycle Bin (Lite) will save Time and Manual effort both. Leveraging it for your CRM business will always boost up your business productivity.
How Easy to Restore the Records? Why should my business get this Extension for handling record to restore operations? We have every answer to your question. Let's shed some light on the right definition of this Plugin.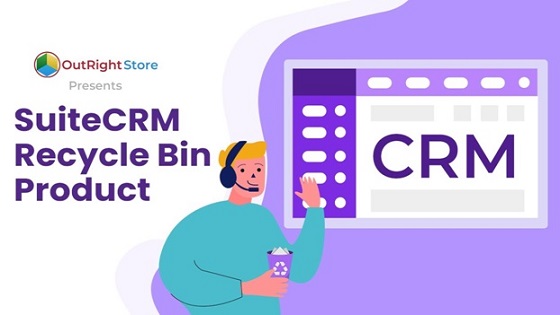 What is a Record Restore Manager Product?
Acquaint yourself with this add-on which allows you to restore all deleted records you deleted in the past. Maybe you need them for your important business operations or for other reasons. You need to fret no longer when you have this SuiteCRM extension. It gives you all accidentally deleted records and you can start working on that easily.
The situation can happen with any of you when you delete your business key records mistakenly. You start searching for the solution or call SuiteCRM Developers to assist you. But instead of increasing your manual efforts on others, just use SuiteCRM Recycle Bin (Lite) which may help you in giving you those records back.
"The Product is cost-less and compatible with every SuiteCRM version"
How it can save my Time on Restoring Records?
Are you pondering the same how this Extension is different from other primitive tools or products? We have something to share with you all:
One of our clients said that he was looking for the Optimal solution for recovering deleted records from SuiteCRM. And he got a plugin from someone for this task. Earlier, the extension was performing nicely, but it was slaying the productivity of their business team. He mentioned in a post on social media "I invested in an Outdated product for restoring accidentally deleted records. The plugin is not working just like the way we wanted. I needed an invaluable add-on, but this is not what I want. Can anyone suggest something else?"
Those were the actual words he shared. We understood their pain because he lost dozens of records and wanted to restore them swiftly for their business handling. A few days after the post was shared, we talked to that person. We introduced the "SuiteCRM Recycle Bin" extension. We said that the specialty of this plugin is it will restore the records in just one click. A one-click restoration and your job is done. There is no such long-winded task for you and your firm. Also, it is Free of cost. No need to pay for anything.
Example:-
On the same day, he trusted us and took this add-on from our company. Till now, his company is using our extension and is happy with all its functionalities. We recall his words: "A few group erased records unintentionally. But I recommend them to use this product to restore all your records. This Plugin is Great assistance for us. A Big thanks to you for curating such a Phenomenal product to improve our business productivity."
All Essential Features of Record Restore Manager Product
Have you understood how this add-on will solve your problem? Let's dive into the next section to know all its functions.
A One-click restoration process for your company. Get all deleted records promptly to start working again.
This Extension saves precious time and effort for every individual. It will not take hours or a whole day to give you back those accidentally deleted records.
Users are allowed to restore their critical records from any SuiteCRM module according to their requirements.
Here an Authorized user can do this Record-restore process for your business. Not everyone has the right to do this operation.
Completing this operation faster indicates that your work productivity will improve and you don't need to procrastinate on other tasks.