As an investor, trader, and owner of Rare businesses, Rakesh Jhunjhunwala is a well-known and successful Indian businessman. The most well-known and reputable investor in India is Rakesh Jhunjhunwala, commonly referred to as "Warren Buffett of India." He currently ranks as the 53rd richest Indian, according to Forbes.
Rakesh Jhunjhunwala is listed 440th in terms of net worth worldwide and 38th in India. The business billionaire started his career with only Rs. 5000.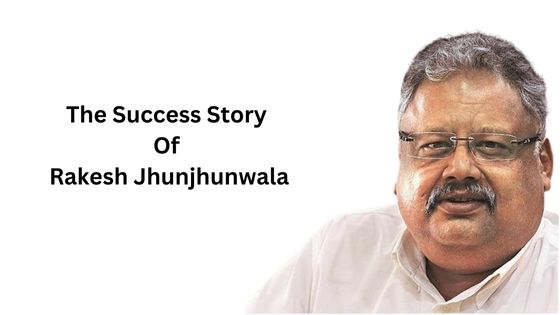 He teamed up to launch Akasa Air, India's latest cheap carrier, alongside former IndiGo CEO Aditya Ghosh and former Jet Airways CEO Vinay Dube. The company began operating commercially this year with a first trip connecting Mumbai and Ahmedabad.
The Success Story Of Rakesh Jhunjhunwala
Rakesh Jhunjhunwala Early Life:
On July 5, 1960, in Bombay, Rakesh Jhunjhunwala was raised in a family that was largely middle class. His father was a revenue agent. He has had a long-standing passion in stock marketing. When he and his company associates would talk about finances and stock marketing, he began to become curious and ask his father questions. His father usually provided thorough explanations for all of his inquiries.
Education:
He graduated from Mumbai. After receiving his Chartered Accounting degree in 1985, he enquired about pursuing a profession in stock marketing. His father then offered him certain advice that he continues to find to be beneficial.
Rakesh Jhunjhunwala Career:
As Rakesh Jhunjhunwala started working, he only had 5,000 rs in his wallet. His brother, a financial consultant, had a great customer at the time. He was a wealthy woman who desired massive profits from her investment.
Beginning of his career
The banks were offering a 10% investment payback at that time. Rakesh offered her a yearly return of 18% in exchange for 2,50,000 rupees, and he accepted. He also took out a loan from someone else for $5,000, which helped him progressively arrange his necessary funds. Investing initially brought somewhere between 80,000 and 100,000 rupees for Rakesh. You can also read Rakesh Jhunjhunwala Quotes to know more about his career and life.
Eventual Growth:
After a number of years, he founded Rare Enterprises, an investment management firm from which he oversees his personal portfolio.
He bought Titan Company shares between 2002 and 2003 for an average price of 4.5 rupees per share. After rising to 80 rupees, the price of Titan shares decreased to 30 rupees. Rakesh Jhunjhunwala's portfolio lost nearly 300 crores in value as a result, yet he didn't sell even one share at the price of 30 rupees. Because he thought Titan would undoubtedly develop.
Rakesh Jhunjhunwala Later Life:
Investor Rakesh Jhunjhunwala had the Midas touch. On August 14, 2022, in Mumbai, he passed away at the age of 62.
In addition to being a dealer, he was a certified public accountant. For organizations including Viceroy Hotels, Concord Biotech, Provogue India, and Geojit Financial Services, he joined the boards of trustees. He served as the president of both Aptech and Hungama Media.
The origin of the moniker "Warren Buffett of India"
Warren Buffett, among the most experienced sellers and money directors in the US as well as the head working authority of Berkshire Hathaway, is commonly suggested as the "Prophet of Omaha." Like his "Indian counterpart", "Rakesh Jhunjhunwala" became known as the "Prophet of Dalal Road". The capacity of both the two raiders to correctly forecast market changes and make acquisitions was their unique quality.
Immediately after these early investors bought stock, their prices rose. But one of the earliest traders to benefit from the liberal laws that were put in place in 1991 was indeed the Indian bull.
At the age of 25, Rakesh Jhunjhunwala invested in his initial Tata Tea shares in 1985 for Rs. 43 per share. The cost went up to Rs. 143 per share three months down the road. Warren Buffett made his debut stock transaction at the age of 11, and he filed his maiden tax form at the age of 13.
Rakesh Jhunjhunwala owned a number of companies, notably Titan Company Ltd. of the Tata group. Titan's shares seem to be the greatest asset under Rakesh Jhunjhunwala's ownership in terms of worth. Warren Buffett is also in charge of running Berkshire Hathaway, which owns a number of companies, including the batteries producer Duracell, the food supply chain Dairy Queen, and the insurance agency Geico.
Conclusion
Rakesh Jhunjhunwala's drive, vision, and genuine initiative in stock marketing helped him succeed. His rise from a profit of 8–10 lakh in 1986 to a net worth of 5000 crores today was amazing. He consistently makes the appropriate stock investments and develops exit strategies, which helped him in his career to become well-known and successful.