Hello friends, today we are going to tell about the journey of Badrinath situated on the banks of Madhya Alaknanda river of Nar Narayan mountain in Chamoli district of Uttarakhand, which is also one of the Char Dham Yatra, Badrinath Dham which is dedicated to Lord Vishnu i.e. Narayan. Is.
Friends, in today's article, we will know how to travel to Badrinath, what is the arrangement for staying and eating in Badrinath and where to stay, how to go, together we will know which is the best time to visit Badrinath and how many days to visit here. Make, how much will be the cost of the Badrinath Yatra and which are the places to visit in Badrinath, therefore you are requested to read the article completely.
There is a winter season throughout the year in Badrinath Dham, sometimes in the month of May and June, there is a lot of snowfall.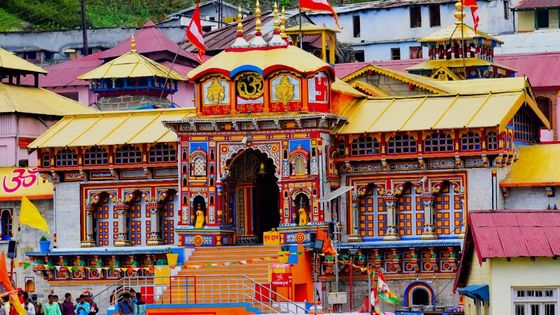 This abode of Badrinath is very important from a Hindu religious point of view, there is also a mythological story about it that till Satyuga Lord Vishnu could be seen by every living being i.e. living beings, human beings, and deities in person.
But at the beginning of Treta Yuga, only deities and sages could see him, but before the arrival of Dwapar Yuga, Lord Vishnu had to incarnate in the form of Shri Krishna.
Table of Contents
Meaning of Badrinath
How to reach Badrinath Yatra?
by train
by air
How to visit Badrinath?
Major philosophical places and places to visit in Badrinath
Charan Paduka
Vasudhara Falls
Mada
Vyas Cave
Ganesha Cave
Bhim Pul
Saraswati Mata Temple
India's Last Shop
Where to stay in Badrinath?
When does Badrinath open
When to go to Badrinath
Meaning of Badrinath
Badri means Berry Berry means Berry tree which is the form of Mata Lakshmi and Nath means the husband of Mata Lakshmi. Mata Lakshmi stood as a berry tree to give shade to Lord Vishnu in the place of penance. Its name was Berinath, later it was changed to Badrinath.
How to reach Badrinath Yatra?
Although there is only one way to go to Badrinath, that is Baya Road, but first let us know that whatever city you are coming from or whatever state you are coming from, there are two big options for that, train and air. ship.
By train
If you are thinking of traveling to Badrinath by train, then its nearest railway station is Haridwar or Rishikesh, you will have to travel further by bus or private taxi because the road ahead is made up of mountains and ghat sections, which Railway track is not possible because of this.
My advice is that if you are coming by train then reach Haridwar as the bus facility is very good from there.
Haridwar to Badrinath distance is 316 kms.
By air
If you are thinking of reaching Badrinath by air, then its nearest airport is Jolly Grant Dehradun, from where you will have to travel 330 kilometers
By road
When you reach these railway stations or airports, then outside the station you will find many buses going to Badrinath, some of them go only to Joshimath, that's why you must ask before sitting, which runs from 5 in the morning to 8 in the evening.
You can also book a private cab Taxi Service at Haridwar for your comfortable journey.
While traveling by bus or taxi, the beauty of the mountains covered with the sheet of snow in the high mountains and the clouds hidden behind them will make your journey feel like heaven.
Let us now talk about the darshan of Badrinath for which you have gone on the journey to Badrinath.
How to visit Badrinath?
Before having the darshan of Lord Vishnu one has to take bath in Tapt Kund which is situated next to Badrinath temple the water of this natural Kund is very hot which makes bathing here very relaxing in winter.
There are 5 major pools for bathing in Badrinath Dham which are as follows –
Hot tub
Narad Kund
Satyapath Kund
Triangle pool
Manuvi Kund
After taking a bath, one has to take a token from the counter, and after that, they stand in line to have the darshan of Swami Narayan. While raising slogans of Jai Govinda, and Jai Kanhaiya, the devotees move ahead while worshiping with their desired desire.
But before going for darshan, you must keep in mind that it is strictly forbidden to carry a mobile or camera in any kind of equipment in the temple premises.
That's why you should keep your phone or camera in your hotel or bring it there where you can deposit your belongings and then go for darshan.
Major philosophical places and their visit in Badrinath
During the Badrinath Yatra, you can also visit the major places of pilgrimage nearby, which are very famous tourist places.
1. Charan Paduka
When Sakshat Narayan came to earth for the first time, he had taken his first step here. This place is situated on the way uphill two and a half kilometers from Badrinath temple.
Where Lord Vishnu's footprints are present, seeing which one gets freedom from all sins, well think that you have got the good fortune of worshiping the feet of the Lord who holds the beauty of the whole world.
2. Vasudhara Falls
You must have heard the name of this waterfall in the film Badrinath. Vasudhara waterfall, located at a distance of 8 kilometers from Badrinath temple, is known as the fountain of nectar.
It is said to give, then it is also said that not even a drop of water falls on any sinful person.
This miraculous waterfall has hidden many secrets behind it. While falling from a height of 400 feet from the chain of mountains, the stream of water disintegrates into small drops which look like pearls.
That is why many tourists come not only from India but also from abroad to see this waterfall.
It is said that if the water of this miraculous spring falls on you, then you are a virtuous soul in this world and attain salvation.
The water of the waterfall touches many herbs and falls down, due to which when it falls on a man, he gets rid of many skin diseases, that is why it is also called rain of nectar.
If you go to Badrinath Yatra, then definitely visit this waterfall and try whether the water stream of the waterfall falls on you.
3. Mada
The last village of India is located at a distance of 3 kilometers from Badrinath, which has the distinction of being the last village of India, after which the border of India and China comes.
The natural beauty of this place, snowy mountains, and dense forests make it even more beautiful.
4. Vyas Cave
Half a kilometer ahead of Mada, there will be Vyas cave, here also you must visit, this Ufa built on the mountains attracts a lot of tourists.
5. Ganesha Cave
After going a half kilometer ahead of Vyas cave, there is Ganesh cave where there is a temple of Lord Ganesha which is present inside the cave, many devotees come here to visit.
6. Bhim Pul
There is a mythological fact about this moment built on the river Saraswati, which is said that when the Pandavas had to go towards heaven and due to the rapid flow of the river, Pandava Bhima lifted the huge rock of the mountain from one end of the river. The other end was kept and through this, the Pandavas went toward heaven.
That bridge is still present in Badrinath, you must visit this historical heritage during your journey.
7. Saraswati Mata Temple
Coming a little further from Bhim Pal, you will find the temple of Mother Saraswati, where you can visit and ask your wish from your mother, for which you have set out on the Badrinath Yatra.
8. India's Last Shop
Moving 1 km ahead of Saraswati temple, you will find the last shop of India where you can go for tea and snacks and along with it there is also the last shop of India which will always remind you that you had tea in the last shop of India.
Where to stay in Badrinath?
Ashram – The best and cheapest option to stay in Badrinath Yatra is the Ashram where there is a very good arrangement for accommodation and food.
Guest House of Garhwal Mandal – This is the government guest house of Uttarakhand state, here there is a dormitory, the rent of which is only 45 rupees for one night, where you can stay if you want, if you are a bachelor, then this will be best for you.
Hotel– A lot of private hotels will be seen around Badrinath, which ranges from Rs 400 to Rs 10,000, depending on the type of hotel you choose.
In Badrinath, there is a provision of all kinds of food except North Indian, and South Indian, which is available in a plate of 150 to 200 rupees.
Pilgrimage places falling on the way to Badrinath Dham, which must be visited while returning like –
Rudraprayag – Here is the confluence of the Mandakini and Alaknanda river.
Garun Ganga – Here is the confluence of Alaknanda and Garun river and along with it the temple of Garun ji, which is believed that whoever takes a bath here while returning from Badrinath darshan and takes a small piece of stone with him, then he There is no fear of snakes.
Joshimath – Guru Shankaracharya, who propagated the Hindu religion, built four monasteries all over India, of which this is one. While returning from Badrinath, this is the best place to stay for the night.
Pandukeshwar – which is world famous for the Valley of Flowers, this place was established by Pandu, the father of Pandavas, and the five Pandavas were born here.
Vishnu Prayag – Here Vishnu Ganga and Dhauli Ganga meet.
Hanuman Chatti – It was at this place that the Pandavas were first met by Hanuman ji.
When does Badrinath open?
Before traveling to Badrinath, it will be very important to know when the Badrinath temple will open, then the opening time of the temple is opened in the month of May on the time of Akshaya Tritiya and the closing time of the back door is closed in October on the day of Kartik Purnima.
Means Badrinath temple is open for 6 months and closes for the next 6 months. The reason for this is that there is a lot of snowfall here, due to which the roads and temples are completely covered with snow.
When to go to Badrinath
Most of the devotees visit Badrinath in the month of May and June and this time is the peak time to visit here because due to the summer holidays, a large number of devotees visit Badrinath Dham for darshan, due to which the cost of living and eating is very high. Increases up to three times.
If you want to avoid all this and have time then September and October is the best time to visit Badrinath as there is not much crowd at this time due to which the hotel stay charges are very less.
Friends, avoid going to Badrinath during the rainy season in July and August because there are more chances of getting hungry, due to which your journey will not be enjoyable.
how many days is Badrinath yatra
You should have at least 4 days for Badrinath Yatra and in these 2 days, we will travel from Haridwar to Badrinath.