INTRODUCTION:
I was in Manali for the first time about 5 years ago. I'm sick of the Delhi summer heat and want to get out as soon as possible. Life is certainly more comfortable at 2000 metres above sea level.
But it's not just the weather in Manali that's lovely all year (below 30 degrees even on the hottest summer days), but the experiences are also fantastic. Apart from camping, Manali offers a diverse range of activities.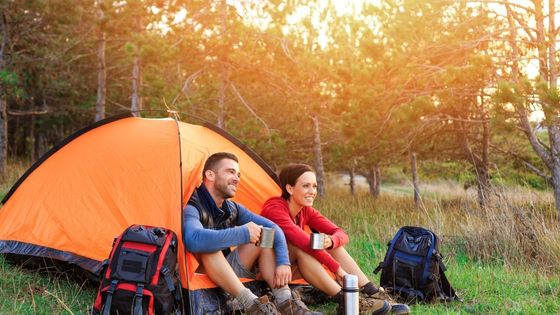 There are Buddhist monasteries to visit and adventure activities such as paragliding and river rafting to do within a 30-kilometre radius. It also contains some of the highest motorable passes, as well as bizarre shopping malls and wildlife parks to visit. If you're still not convinced, you can always count on warm Himachali friendliness to make up for it. But, above all, I can't think of a better experience than camping in Manali.
As I previously stated, there are several travel firms that offer Manali Camping vacation packages; nevertheless, I do not recommend them because they provide a false and manufactured experience. Instead, experiment on your own.
Weather in Manali
The weather in Manali is predictable for all types of visitors. The weather in the hills has the power to change in an instant, serving backpackers all year with a nice climate. Though this element of Manali's weather may not fit the needs of families, for individuals who enjoy camping in Manali, any weather is ideal!
Summers: From March to June, average temperatures vary from 10 to 25 degrees Celsius.
The monsoon season runs from July to September, with average temperatures ranging from 11 to 15 degrees Celsius.
Winters last from October through February, with temperatures ranging from -15°C to 12°C on average.
Travelers of all kinds are not surprised by Manali's weather. Backpackers' service
Best places for camping in Manali
Beas River
Camping in Manali doesn't get any better than the campsites near the Beas River, with their perfect blend of lush environment, majestic hills, gushing streams, and postcard-like views of the Himalayas. The Beas river flows down from the Beas Kund region, which is ensconced in the Himalayas, to the Sutlej Basin in Punjab. The Beas River, which stretches for around 470 kilometres, is one of the best places in Manali for riverside camping.
Solang Valley
The magnificent Solang Valley, perched above Kullu's entrancing valley, provides yet another lovely camping nearby, approximately 14 kilometres from the city centre. This valley, named after the adjacent settlement of Solang, offers the perfect blend of stunning landscapes and snow. Camping in Solang Valley, unlike camping in Manali, is undoubtedly a haven for adventurous souls. It is a picturesque paradise for skiing, cable car rides, paragliding, and other adventure sports.
Bhuntar
People looking for a less crowded destination should go to Bhuntar, which is located in Manali's remote districts. This location guarantees an unforgettable camping vacation. It includes a very modest campsite that is furnished with the majority of the amenities needed to survive in the woods. This campsite, located right close to the river, provides a unique camping experience.
Tirthan Valley
Tirthan Valley in Himachal's best-kept secret, offering a beautiful perspective of the environment. Tirthan Valley, located at an elevation of 1600 feet, is the ideal place to relax while taking in the best views of nature. This location is also known for camping, where adrenaline seekers may escape the city and climb up to see the beauty of this unspoilt location while staying in the woods.
Kothi Valley
Camping in Manali requires no introduction, especially when it is in the picturesque small village of Kothi, which is adjacent to the Lahaul, Spiti, and Leh routes. The settlement of Kothi, around 16 kilometres from Manali's city centre, is well-known for its breathtaking views of the gorge. The River Beas may be seen pouring through the gorge, which also serves as an excellent base for paragliding.
Sethan
This campsite in Sethan is ideal for those who enjoy off-the-beaten-path travel. This location, located in the restricted zone of Manali, is an excellent choice for staying away from the crowds and enjoying your vacation while camping in Manali. This location is 800 metres above Manali and gives a spectacular view of the Kullu valley.
The camp is 15 kilometres from Manali and is surrounded by organic apple orchards. The site is relatively unknown, making it an undiscovered gem that is sure to provide you with an unforgettable experience.