A master's in Computer Science is the third most popular major among international students entering the United States. Computer science is quite popular because of its exceptional job stability, extremely high starting salaries, and the broad range of employment opportunities.
With so many options, it is ideal for international students studying computer science in the US to have a clear focus in mind in order to make serious preparations for their future on the job market.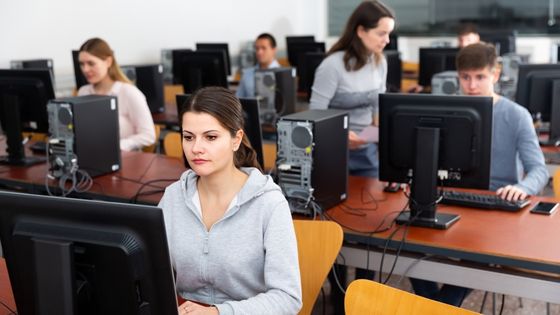 How well a student comprehends computer science will affect how successfully they design their course of study and the degree they will ultimately receive. A student can go for a bachelor's in Computer Science after their schooling and can opt for a Masters in Computer Science after their graduation.
What kinds of computer science careers a student is qualified for after graduating will also depend on which degree is suitable for them. Therefore, it is crucial that you plan a specialised computer science degree that will enable you to follow the career you choose.
USA
You will have access to a variety of options while attending a university in the United States that are unavailable in other nations. Internship programmes are available through universities in the US as a method to launch your professional career. In order to get practical experience and gain access to better-paying employment after graduation, many college students participate in internships throughout their time in school. Your American education will surely be the foundation for a prosperous career, regardless of whether you decide to work full-time in the United States after graduation or return to your home country. There are immense job opportunities in the USA after MS in Computer Science.
Universities offering computer science in the USA:
Cornell College
With a strong H-index rating, Cornell University, a member of the prestigious Ivy League, is now ranked 19th in the world for computer science.
With its founding year of 1965, its computer science department is one of the country's oldest of its kind. The institution, which has its headquarters in Ithaca, runs Cornell Tech, a technology-focused graduate school in New York City.
University of California
For computer science, the University of California, Los Angeles is ranked seventh in the US and sixteenth overall (UCLA). UCLA's strong ratings across the majority of measures, especially the H-index and research citations per publication indicators, demonstrate the calibre of the university's research.
The computer science faculty at UCLA is located in the Henry Samueli School of Engineering and Applied Science. The university's Boelter Hall earned the moniker "the birthplace of the internet" in 1969 when it sent the first transmission of what would later become the internet.
Harvard University
Harvard University is ranked fifth in the UK and seventh overall in the world. It has a computer science department that is a part of John A.
The founders of Microsoft, Bill Gates, and Facebook, Mark Zuckerberg, are renowned alumni of the university. Both "dropped out" of Harvard to pursue careers in technology.
Canada
According to the Times Higher Education World Rankings 2022, 10 institutions in Canada are among the top 300 universities in the world. The University of Toronto, University of Waterloo, University of Montreal, University of British Columbia, and McGill University are a few of Canada's internationally renowned universities. These reputable universities attract students from all around the world who want to earn a bachelor's degree in computer science there.
Canada is a welcoming country with a diversified population that welcomes international students. The nation provides an incredible opportunity for overseas students from all origins.
International students have access to a wide range of partial and full financing scholarship opportunities as well as financial awards. Numerous fee-waiver programmes are available through Canadian colleges and the government, coupled with options for living expense stipends. For graduates in computer science and engineering, the job environment in Canada is bright.
Universities offering computer science in Canada:
University of Toronto
University of Toronto (U of T) is one of Canada's top institutions for computer science education. It was established in 1827 as a public educational institution. According to the rankings published by US News and World Report, it is ranked #17 among the best global universities and #31 in computer science. Along with having three campuses in St. George, Mississauga, and Scarborough, it is also Canada's top international university. In the QS Global Ranking 2022, U of T is rated #26. In the area of computer science, it grants 4 bachelor's, 1 master's, and 1 PhD degree. More than 700 undergraduate programmes and more than 200 graduate and doctoral degrees in a variety of areas are available at the University of Toronto.
University of Waterloo (UWaterloo)
Public university The University of Waterloo was established in 1957. With satellite campuses in Cambridge, Kitchener, and Stratford, it has its main campus in Waterloo, Ontario. The US News and World Report rankings place it at #210 for Best Global Universities and #40 for Best Universities for Computer Science. In the QS Global Ranking 2022, UWaterloo is ranked #149. It grants four bachelor's, seven master's, and four PhD degrees in computer science.
University of Montreal (UdeM)
A public university was established in Montreal in 1878. According to US News and World Report rankings, it is placed #140 among the best global universities and #70 in computer science. According to the QS Global Ranking 2022, UdeM is ranked #111.
Conclusion
Computers are now a necessary component of all businesses and economic sectors, creating a large number of job prospects for those with a background in computer science.
Forensic science, security systems development, technical writing, banking, medical applications like bioinformatics and tomography, business equipment, game design, computer-aided design (CAD), and GIS systems are just a few of the many fields where computer science professionals can pursue a high-paying career.
Both USA and Canada are great countries to pursue Computer Science. But Canada has the added benefit of comparatively easy PR options for the students who wish to settle there.
Author Bio
 Abhyank Srinet is a passionate digital entrepreneur who holds a master's in Management degree from ESCP Europe. He started his first company while he was still studying at ESCP, and managed to scale it up by 400% in just 2 years.
Being a B-School Alumni, he recognized the need for a one-stop solution for B-School to get in touch with schools and get their application queries resolved. This prompted him to create Mentr-Me, a one-of-a-kind portal with cutting-edge profile evaluation and school selection algorithms, along with several avenues to stay informed.