INTRODUCTION:
In the current times when people are fed up with this stressful and anxietic life, adventure activities have been one of the most effective and useful methods for providing them with an opportunity to get a peaceful atmosphere in which they can relax. Among these adventure activities, trekking is one of the most common and popular adventure activities that is also often done as a vacation trip. Today I am going to give you five reasons for going on a trek to Nag Tibba.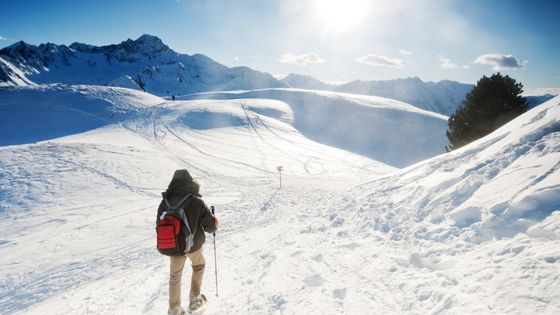 About:
The tallest peak in the lower Himalayas of the Garhwal region near Mussoorie is called Nag Tibba, which means Serpents Peak. Additionally, it gives a name to the Nag Tibba Range, one of the Lesser Himalayas' three ranges (the others being Dhauladhar and Pir Panjal).
It is one of the best weekend hikes that both novice and expert hikers may embark on. On top of the hill, there is a little temple from which one can see the entire Bandarpunch range of the Great Indian Himalayas as they move away from the Yamunotri side.
In the spring and summer, Nag Tibba is the ideal location for camping, and in the winter, when the majority of treks are closed due to severe snowfall, it is one of the best treks. It is one of India's most popular weekend treks because of how simple it is to get there.
Reasons:
Nearness to Delhi:
The sole limited resource in today's hectic world is time. Therefore, everything—including shopping, excursions, quality time with family, etc.—must take place on weekends. And if you live in or near Delhi and become tired of frequently going to malls and theatres, a walk to Nag Tibba is the ideal place to begin this magnificent mountain-exploring journey. Nag Tibba begins in Pantwari, 90 kilometres from Dehradun. Therefore, if you take an 11:00 PM bus from Delhi, you will get to Dehradun by 5:00 AM the following morning. From there, you may take a cab, and by 9:00 AM you will be in Pantwari. You can begin your walk by 9:00 AM if you start on Friday night.
Time is taken for the trek:
Depending on how hard you want to push yourself, a weekend Trek-Trek to the peak of Nag Tibba can be completed in two to three days. As a beginning, one of your concerns is whether you will be able to complete it. The 3-day itinerary, beginning in Pantwari, is the finest option in that situation. You can also begin your two-day walk from Thatyur, but it may not be the greatest option given the difficult climb up to Nag Mandir and the fact that there is only one place to find water until you are close to your campsite for the day. If you follow Thatyur's schedule, you camp in Nag Mandir the night before summiting the following day and arriving in Patwari by day's end.
Nice route:
The terrain is quite easy from Pantwari to the summit of Nag Tibba, and there are no steep sections that last more than 5 to 10 minutes. The absence of these difficult ascents enables hikers, especially beginners, to take in the natural splendour all around them. Beginners are less patient than experienced trekkers, and they want to see the results of their labours (i.e., hiking) as soon as possible. On Nag Tibba, this is what occurs. After a two to three-hour climb, you camp at Nag Mandir, which offers a 180-degree panorama of the higher Himalayas. The picturesque camping area of Nag Mandir is surrounded on one side by a Rhododendron forest and on the other by a Deodar forest. The Himalayan sunsets are as stunning as those from other camping areas.
A healthy trek:
On one journey, Nag Tibba, you can experience all the things that one can encounter on lengthier treks, including a jungle track, snow, and a spectacular perspective of the highest peaks of the Indian Himalayas (only the duration is short). The first day of the journey, which begins in Pantwari, is primarily through a rhododendron forest. The journey involves crossing ankle- to knee-deep snow at times after Nag Mandir or just before Nag Mandir.
The journey involves crossing ankle- to knee-deep snow at times after Nag Mandir or just before Nag Mandir. When you reach the top, you may enjoy the view of Bandar Poonch, Nanda Devi, and other peaks, including the highest peak in India. Above all, if you plan well, it's a circular walk. As the landscape is different when you return and you always stay motivated all the time you spend on a route, doing a circuit is always a greater experience than retracing the same trail.
Open and can be accessed in all months of the year:
One of the best treks that can be completed in any season is the Nag Tibba trek. This excursion can be scheduled for any weekend when you wish to get away from your normal routine. Snow will blanket your trek's route and fall heavily during the winter. When you have snow under your feet and are perched on gorgeous rainforest trees, the view is truly breathtaking. The same landscape is covered in vibrantly coloured flowers and rhododendrons in the summer. In order to feel the various moods of this place, you must go on this walk at all times of the year.