Commerce vs Science, which streams to choose? Yes, this is a debatable question for Class 10th students. However, Science and commerce are the two most popular streams after the 10th. Both of the subjects have good career options in the future. But choosing the best for you remains a difficult task.
Moreover, most students think that after taking Science, they can only be a Doctor or an Engineer; similarly, for commerce, they think they can only become CA.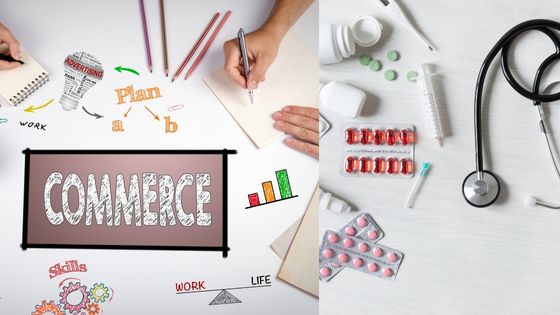 Therefore, in this article, CA Wizard Team discusses the different factors of Science and Commerce and a step-by-step guide that will help you explore these two.
Difference Between Commerce vs Science
Check the table below and learn the difference between both:
Factors
Subjects in Class 11th- 12th
Fee for UG/PG courses
Eligibility to shift in other streams
How are subjects in the Study
Career Options
Career Scope
Commerce
Accounts, Business Studies, Economics
Less Expensive
Can shift to arts but not Science
Less technical but more practical
CA, CMA,CFA, Investment banker etc.
Ample opportunities
Science
Physics, Chemistry, Maths, and Biology
More Expensive
Can shift to both Arts and Commerce
More technical as compared to commerce
Doctor, Engineer, Scientist, Forensic Expert, etc.
Good Opportunities but limited.
However, most students often believe in the myth that science students are more intelligent than commerce one. Further, most students pick Science because they are good at academics. Studying class 11th and 12th Science is far different from class 10th science.
Now let's see individually about both the stream commerce and Science.
What is Commerce Stream?
Commerce is the course which involves accounts, Maths, Business Studies and Economics as its subject. However, if you choose commerce in class 12th, this will be your core subject.
Further, the commerce stream is best for the students who want to start their business or wants to launch a startup. In the commerce stream, students deal with real-life financial issues and situations.
Therefore, students who are good at management and decision-making must opt for this field.
What is Science Stream?
Science is the course that deals with Maths, Physics, Chemistry, and Biology as their core subjects. However, the science stream is best for students who are fascinated by the natural sciences or want to be a Doctor or an Engineer.
Which is better Commerce vs Science after the 12th?
To find out which is better after the 12th, let's look at the career opportunities and remuneration.
Courses after Class 12th Commerce
If you choose commerce, as you stream after the 10th, you will enjoy many benefits. However, students can choose different types of courses as per their interests. Some popular courses are CA, CS, CMA, BBA, B.com, BHM, etc.
Moreover, another critical point is the fees. The commerce courses have a low price as compared to science courses. Most UG and PG Courses of commerce are just completed in 1-2 lakh. Even if you take admissions in tier 1 colleges, it is just completed in 5-10 Lakh.
Courses after Class 12th Science
If you choose Science as your stream after the 12th, you can pick both the medical and non-medical fields. There are many courses available for science students, are B.sc in nursing, B.tech, MBBS, B.sc, etc.
Moreover, the key point fees. In the science stream, the UG and PG courses are done in 3-5 Lakhs. But if you register in the top colleges, it goes up to 15-20 Lakhs. Further, the fees for the MBBS colleges in India go from 50-60 Lakhs to crores.
Commerce Salary
Commerce students enjoy good salary packages after many UG/PG courses. For example, if you opt for CA as your career after the 12th, you will enjoy 8-10 lakhs as your starting salary. Also, if you start your own business, you scale up to a vast scale. Further, let's see salary in different job roles in commerce:
CA Salary: 8-10 Lakhs
Investment Banker: 9-10 Lakhs
HR Manager: 7-15 Lakh
Chartered Financial Analyst: Around 12 Lakhs
Certified Public Accountant: 7-9 Lakhs
Company Secretary: 6-7 Lakhs
Hotel Manager: 4-5 Lakhs
Science Salary
Science students enjoy a very high salary package. However, this is the main reason most students choose Science as their stream. Further, let's have a look at the salary of different job roles in Science:
Engineering Course: 20-25 Lakhs
Architecture: 40-50 Lakhs
Computer Science: 8-20 Lakhs
Commercial Pilot: 40-50 Lakhs
MBBS: 50-70 Lakhs
BDS: 20-40 Lakhs
Nursing: 29-34 Lakhs
Take Away
After reading this article, it would be easier for you to now choose between Commerce vs Science. The subject of commerce is much easier than Science but requires similar exam preparation. But commerce gives you more career opportunities than Science. However, a student can grow a bright career in both fields.