Due to the intense competition in the business world, owners are working extremely hard in the areas of marketing, sales, customer experience, and engagement. The internet is a fantastic tool that can help you reach all of your business goals without you having to go outdoors and meet a group of strangers, even though it isn't much you can do about this while COVID-19 regulations are still in place. For instance, webinars are quickly transforming how business owners interact with their customers.
A webinar is an informative and interesting platform that allows to reach the target audience and share important information. Many event organizers and marketers are using webinar platforms and online webinar services in order to build up relationships with people and boost the awareness of their brand or business. Want to host a high-quality webinar? You are in the right place. Here you will find the best tips and tricks that can help you succeed.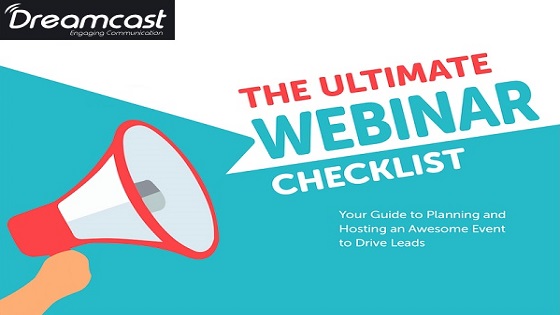 What is a webinar?
A webinar is an online workshop or presentation that helps the presenter to share multimedia content such as audio, video, PowerPoint presentation, etc with the participants. In this condition, participants can be located anywhere in the world. In simple words, It is a virtual event and anyone can join this event virtually using webinar software.
There are several different types of webinar software and many different platform options. Many individuals are undoubtedly feeling much more comfortable using video technology, such as Google Meet or Zoom, as a result of the recent lockdown. These platforms can be effective for organizing webinars.
This type of event can be extremely cost-effective. The content of webinars can be utilized in Ebook print articles and event blogs, making them perfect value for money. A computer system, stable internet connection, and live webinar platform are required to host and broadcast a webinar. This is a great way to reach people with valuable content, improve brand awareness, promote the product or service, generate leads, and improve revenue. Many entrepreneurs, marketers, and business owners utilize online webinars to connect with existing and new potential customers.
Benefit of webinar
You and your brand can benefit greatly by including webinars in your advertising strategy. With webinars, you may establish connections with your audience, increase your credibility, and engage them. Additionally, it highlights both your target market and potential buyers. Indeed, webinars are the most economical marketing strategy for attracting new customers and growing your business.
There are different benefits of conducting an online webinar. And some of them are given below:
The main advantage of a webinar is that it helps to reach out to sponsors and attendees anywhere in the world.
Webinars offer an opportunity to increase your brand awareness
This event can help you to generate more leads and improve your revenue
A webinar can help you position yourself as an expert in your industry or niche
Webinar services solution is best to increase your audience's awareness
Webinars offer a platform where you can promote your product, service, or solution.
It is a cost-effective solution to reach a wider audience and share information.
You can reuse your webinar content after the event.
It also helps to boost your influence and authority
It can be recorded and shared over the internet
A professional webinar speaker can increase your brand credibility
It allows your target audience to discover more about your business or brand
How to host a webinar successfully
Understand what you want to achieve
Want to promote your product or service? Want to onboard new clients? Want to offer leads to your sales team? Boost the revenue with paid registrations. So the main question is what is your goal? It is important to keep in mind that your promotion strategy, the content you cover, and the structure of your session can vary according to your goals.
Before conducting any webinar, take some time to understand your goals and what you want to achieve with your online webinar. This practice will help you to save time and make your webinar more effective and successful.
Promote your webinar
If you want to attract more people and host a successful webinar, promote your online event in advance. This strategy will help you to spread awareness about your upcoming webinar and maximize your participants. There are different things you can do to promote your webinar in advance, including:
Send announcement emails
Create a teaser video
Write a blog post
Post on social media platforms such as Instagram, Linkedin, etc.
Get active in online communities
Create online ads
Create social media banners
Choose a trusted webinar platform
A high-quality webinar platform plays an essential role to host an interactive and engaging online webinar. A webinar platform is a tool that helps event organizers to host an online event over internet. This type of platform includes a wide range of interactive tools such as live polls, surveys, Q&A, etc. Interactive tools and features encourage participation and improve engagement. So before hosting a webinar, choosing a trusted webinar services solution provider and the platform is essential.
Choose a suitable day and time
It's crucial to schedule your webinar for a time and day that will attract the greatest number of participants. The ideal period for your company relies on its target market. The study found that Wednesdays and Thursdays are the ideal days for presenting webinars because Mondays and Fridays are frequently occupied with catch-up work.
Engage audience
Audience engagement is the key component of a successful webinar. If you want to host a successful webinar, you need to focus on audience engagement. There are different engagement strategies that can help you improve your engagement rate. For example, you can use a webinar platform that allows your audience to vote in polls, comment with questions, and take quizzes during the webinar.