1. INDULGE IN BEACH FUN:-
Think of Goa and the first thing that comes to mind is beaches, one of the best things to do in Goa is to explore its exquisite beaches where you can indulge in sunbathing, water sports, sunset parties may be, and so much more. Goa has a long list of beaches spread across the northern and southern parts.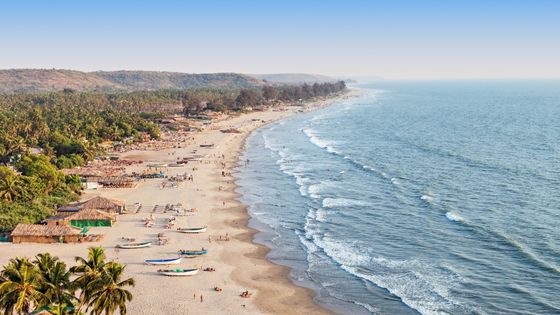 BEST BEACHES IN NORTH GOA
BAGA BEACH
ANJUNA BEACH
CALANGUTE BEACH
CANDOLIM BEACH
ARAMBOL BEACH
SINQUERIM BEACH
VAGATOR BEACH
2. EXPLORE THE MAJESTIC FORTS IN GOA:-
Goa is dotted with many magnificent forts that exemplify the grandeur, architectural brilliance and glorious past of the region. But more than anything, the forts of Goa offer you breathtaking views of the surroundings.
3. VISIT THE MUMMY OF FRANCIS XAVIER AT THE BASILICA OF BOM JESUS:-
A mummy is something you wouldn't expect to see in India until you visit the Basilica of Bom Jesus. This magnificent church is a Unesco World Heritage Site in Goa and is known for its architectural brilliance. This 400 year old steeped in history The structure has a non-plaster exterior and ornate interior. The main attraction of this church is the mummified body of St.Francis Xavier which is encased here in a silver coffin.
4. CHECK OUT THE UNESCO WORLD HERITAGE SITES IN GOA:-
Goa is as much about history and heritage as it is about beaches and parties. The Unesco World Heritage Sites in Goa testify to the rich heritage and colonial heritage of the region. Spend some time at these heritage sites of Old Goa to experience the spiritual and architectural splendour for which this land is known.
5. PAY A VISIT TO THE HISTORICAL TEMPLES:-
When you are done with beach walking and partying, take some time out to explore the majestic temples in Goa. Yes, Goa has some amazing temples that tick the boxes for architectural splendour, spiritual glory and serenity.
6. GO PUBBING AND CLUBBING:-
When you are in Goa, you can never be too far from a club or pub where you can relax with your favorite drink in hand. So, here is a selection of the best nightclubs and pubs in Goa:
7. WINE AND DINE LIKE A LOCAL:-
It is said that the best way to find a place is through its food. When you are in Goa, you can pamper your taste buds with lots of seafood and Goan cuisine and other delicacies.
8. ENJOY THE THRILL OF WATER SPORTS:-
The beaches of Goa are a haven for thrill-seekers. You can unleash your inner adventure by indulging in a variety of water sports at different beaches.
9. LEARN ABOUT GOA'S GLORIOUS HISTORY AT THE GOA STATE MUSEUM:-
The Goa State Museum is where you can find a remarkable collection of artefacts and exhibits that capture the saga of Goa's past in a captivating manner. The museum houses over 8000 relics, including bronze artefacts, coins, Jain sculptures and rock sculptures.
10. VISIT THE NAVAL AVIATION MUSEUM:-
Plan a visit to the Naval Aviation Museum in South Goa to learn more about the world of Naval Aviation. Among other things, you can see some of the big machines on display here and also watch short documentaries in the mini theater located within the museum.
11. HAVE A TRYST WITH DOLPHINS:-
One of the fun things to do in Goa is to hire a boat and venture into the deep blue Arabian Sea for an early morning meeting with dolphins. Watch the dolphin safaris and the lovely water animals dive in and out of the water in all their majestic grace.
12. WITNESS THE BREATH-TAKING BEAUTY OF DUDHSAGAR FALLS:-
Dudhsagar is a gorgeous waterfall that dances at a height of 1017 feet. This four-storey waterfall is surrounded by lush greenery. During monsoon, it seems like a sea of milk is flowing down and presents a spectacular sight to behold. You can also go trekking the sightseeing around this waterfall.
13. SHOP AT THE ANJUNA FLEA MARKET:-
If you love to collect skills and souvenirs, then shopping at Anjuna Flea Market is something you should not miss. This famous weekly market is a bustling place with stalls selling all kinds of items from handicrafts and clothing to hammocks and jewellery. There is live music and great food stalls to add to the lively ambience of the place. But don't forget to bargain hard while making the deal.
14. GO ON A JUNGLE SAFARI AT THE MOLLEN NATIONAL PARK:-
Away from the sunshine and sandy beaches, Molen National Park stands as a lush green paradise in Go. The park covers the core area of the Bhagwan Mahavir Sanctuary. The best way to visit this park is by going on an open jeep jungle safari. You can spot a variety of animals reptiles, birds and butterflies here, including Bengal Tiger, Sambar, Leopard, Spotted Deer etc.