In this article, we are going to highlight the key differences between two of the most used SEO analysis and research tools i.e. Ahrefs and SEMrush. Both of them were launched nearly a decade ago and since then they have made great improvements and additions to their functionalities. First, we'll give an overview related to both tools, and then without further ado, we'll head on to the comparison.
Overview
Ahrefs: It was launched nearly a decade ago in 2010, but originally, it was only the backlink analysis tool. After that, the Ahrefs team kept adding new features and now evolved as a full-fledged SEO analysis tool. For a very long time, Ahregfs was only renowned for its backlink analysis capabilities, and digital marketers preferred to use it for link building. Continuous development and the addition of new features have made it an all-around tool.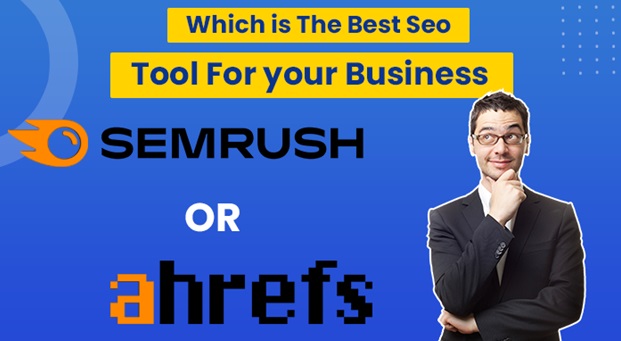 SEMrush: This tool was introduced to the world two years before Ahrefs i.e. 2008. A small team of SEO and tech experts have launched SEMrush as an online research and analysis tool. Due to the continuous development and evolution of features, SEMrush has become the undisputed heavyweight of SEO analysis tools. Every digital marketer nowadays wants to have SEMrush in their arsenal and the reasons are crystal clear.
Now, you have the basic information about both tools. Let's have a look at the Ahrefs vs SEMrush features and pricing comparison.
Ahrefs vs SEMrush
We are only going to compare the keyword research feature here. If you want to check out the complete unbiased comparison then please refer to our full-length Ahrefs vs SEMrush blog.
Keyword Research and Ideas: Ahrefs vs SEMrush
Keywords are undoubtedly the most important aspect of SEO, after all, people use these words for searching for whatever they need. Let's see what both of them have to offer when it comes to keyword research.
SEMrush: When SEMrush was originally launched, its highlighted feature was keyword research. It is also popular for its authentic and accurate search volume data as compared to any other tool. In its keyword overview report, you will find data like monthly search volume, keyword difficulty, CPC, PPC, top-ranking pages, keyword ad history, ad copy, etc. The real story begins when you access the Topic Research and Keyword Magic Tool. In the topic research, you can get tons of content ideas based on volume, difficulty, trends, etc. Whereas the Keyword Magic Tools, allow you to optimize your content by providing the best relevant keywords. It may also help you in getting featured in Google snippets.
Ahrefs: Ahrefs prefers to call their research tool a keyword explorer tool. Here, you need to enter the main keyword and after that, you will get related keywords. You can sort out these keywords based on the search volume, keyword difficulty, CPC, etc. In addition to this, you will also get new keyword ideas, newly discovered, search suggestions, etc. The unique thing about Ahrefs's keyword explorer is it shows the number of clicks on a particular keyword.
Verdict: After closely assessing and using both features, I have come to the conclusion that SEMrush's keyword research tool is more advanced and has a lot more to offer. The fact that SEMrush has the largest keyword database (20 Billion Keywords) in the world, has made it easier to declare the winner.
Pricing and Plans: Ahrefs vs SEMrush
SEMrush: It has three plans i.e. Pro, Guru, and Business. The Pro is priced at $119.95/month and the Guru is priced at $229.95/month and the Business is priced at $449.95/month. All of them are available for a free trial so make sure to check them out.
Ahrefs: It has four plans i.e. Lite, Standard, Advanced, and Agency. The Lite is priced at $99/month and the Standard is priced at $179/month and the Advanced is priced at $399/month and the Agency is priced at $999/month. Only Lite and Standard plans are available for 7-day free trials. For the other two plans, you have to subscribe to them.