Anthropologie is known for its eclectic and bohemian style. It is a popular store for many reasons, but its unique and stylish home decor is one of the main reasons. It is the perfect blend of modern and vintage, focusing on natural materials and interesting details. Something about the Anthro aesthetic feels so cozy and inviting. While it can be exciting to head to the store and drop a small fortune on all the things you need to achieve this look, there are plenty of tips and tricks you can use to bring Anthropologie style home without breaking the bank. Here are a few of our favorites!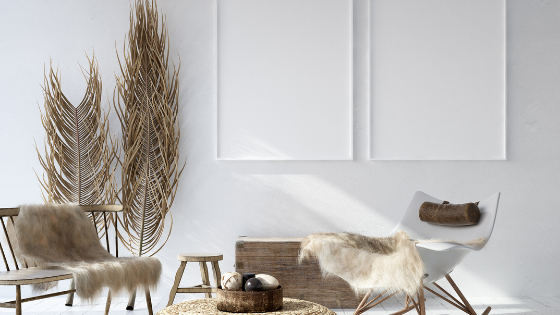 Start with a Natural Base
The foundation of any good Anthropologie-inspired space is a neutral, natural base. It can be achieved by painting your walls a warm white or cream color and using plenty of wood tones throughout the room. It will provide a blank canvas for you to work with, but it will also help create that cozy, lived-in feel essential to the Anthropologie aesthetic. Also, choose the flooring carefully. Wood floors are always a good choice, but if you have another type of flooring, try layering area rugs to give the illusion of hardwood. The key is to keep everything natural and neutral to easily add pops of color and pattern.
Bring in Plenty of Texture
One of the things that makes Anthropologie spaces so inviting is all the texture. From chunky knit blankets to ruffled curtains, there are plenty of ways to add some visual interest to your space. You can also achieve this by layering different patterns and textures on your furniture. For example, if you have a couch with a simple linen slipcover, try adding a knit throw blanket and some colorful pillows to give it more dimension. You may also mix and match different finishes on your hardware and fixtures. For instance, pair a brass chandelier with some matte black door knobs for an unexpected twist.
Add in Pops of Color
While neutrals form the foundation of the Anthropologie look, there's room for color. One of the easiest ways to add some colorful and classy vintage rugs, art, or textiles into your space. These can easily be found at local flea markets or antique stores, and they'll add an instant dose of charm to any room. Another way to bring in color is with fresh flowers and plants. Anthropologie is known for its beautiful displays, so try replicating this in your home by picking out some pretty vases and arranging fresh flowers throughout your space.
Layer it!
Another important element of the Anthropologie look is texture and color. Add dimension to your home by layering different textures, patterns, and materials. For example, you might try layering a chunky knit blanket over a printed duvet or adding a fur throw to your sofa. Mixing and matching different textures will add interest and depth to your space, and it's a great way to experiment with different trends and looks. Layers make everything more interesting! Likewise, don't be afraid to mix different colors and patterns. The more, the merrier! Anthropologie is all about being unique, so don't be afraid to show off your personality in your home decor!
Mix Vintage and Modern Styles
Anthropologie is a store full of vintage finds. But that doesn't mean your home has to look like a time capsule. A great way to achieve the Anthropologie look is to mix vintage and modern styles. For example, you could pair a mid-century modern sofa with an antique coffee table. Or hang an antique mirror above a modern fireplace. The key is to mix and match different styles and periods to create a unique and interesting space. In addition, you can also think about adding some sleek touches to the furniture and vintage charms to the floor. The focus is to bring the contemporary and old world to the same place.
Don't be afraid of bold prints!
One of the things that makes Anthropologie so unique is its bold and often daring prints. From floral to geometric, there's a print for everyone at Anthropologie. And don't forget to mix and match different prints! Mixing different prints is a great way to add some personality to your space. The key is to mix prints that are in the same color family. You may also want to consider the scale of the prints. For example, if you have a small space, you may want to go with smaller prints. Or mix various shades of the same pattern for a more subtle look. The possibilities are endless!
Design a Flowing Look
Bringing a particular mix of styles doesn't mean bringing all your stuff into one room. The idea is to create a certain look or feel in your home. You need to be intentional about the pieces you choose and how they work together. One way to achieve this is by designing a "capsule." A capsule is a small collection of carefully curated pieces that work together to create a certain look or feeling. Create a design that flows by considering the following:
The colors in your capsule should work together. You can use a color scheme as a guide.
The pieces in your capsule should share commonalities in style, material, or both.
The scale of the pieces in your capsule should be similar. Choose smaller accessories to compliment larger furniture pieces, for example.
Capsules can be temporary or permanent. You might want to change them out seasonally, or you might find a set of pieces that work so well together that you want to keep them forever.
Remember that less is more. When in doubt, choose simplicity over excess.
Pay Attention to Details
From beading to tassels, Anthropologie is known for its attention to detail. And these details can make a space pop! So don't forget to accessorize your space with some unique finds. Look for unusual vases, retro-inspired artwork, and funky sculptures to add personality to your home. These little touches will make your space truly yours and give it that Anthropologie flair. A vase in the corner or a lamp on the nightstand can make the difference. Even the wallpaper on the stairways in Anthropologie stores is worth noting! The focus on smaller things brings a major impact to the overall look.
Wrapping Up!
Anthropologie is a style that focuses on the small details to make a big impact. When shopping for your home, keep this in mind and look for items that will stand out and make a statement. And don't be afraid to mix and match different patterns and textures to create a truly unique space that is all your own. If you're looking to add a touch of Anthropologie style to your home, start by investing in some cozy and beautiful rugs. RugKnots has a vast selection of high-quality rugs to help you achieve your desired look without breaking the bank. With so many options available, there's sure to be a rug perfect for your Anthropologie-inspired space. So what are you waiting for? Start browsing today!