In today's competitive world, choosing a career is the most crucial thing any aspirant needs to do. The competition rate is very high in the current market trend, and there are vast career options available for students. Still, one thing which is very much important is the success rate and growth in any particular field.
Everybody wants a job in the profile where they get the desired growth, success, and job satisfaction because these are the key aspects of employee retention. An employee looks forward to a career full of opportunities, innovation, and success. And success can be achieved if an aspirant chooses the right path.
What do we mean by the right path?
Well, let us understand the correct meaning of the right path. Firstly, you need to know your interests. Always make choices based on your interest and seek the proper guidance in that particular field. You need to understand and analyze the market scenario and the demand for that field in the industry. Do some research and get to know about the rewards and risks associated with your desired profile. Ask for advice from the ones who are already involved in that profile or from the ones who have great knowledge of that field. Always try to understand what the economy and industry are demanding then only you can choose the right path.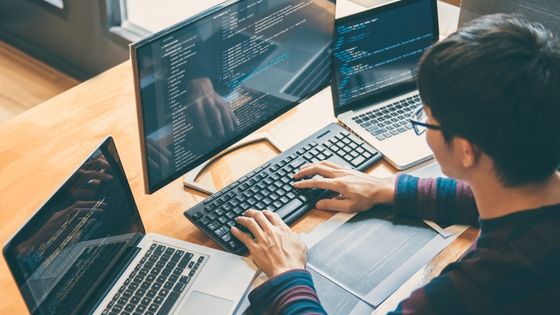 If we talk about the current market trend, software development has a bright future. The software industry is booming and offers careers with great opportunities, progressions, and learnings. Software development is a vast field full of options where you can learn about the business along with the technologies. Software development makes your career rewarding and full of innovations.
Becoming a software developer is a great logical choice if you are a computer wizard from a young age. And it has also been proved during the pandemic that software developers were making money and were doing technological innovations just sitting at home. In contrast, in other industries employees were struggling to get a salary because no company was ready to pay for no work done. The demand for software developers will remain progressive in the future.
What is software development?
Software development is a logical process that aims to create programmed software by writing computer code to meet unique business objectives and goals.
Software development includes 6 phases in SDLC( Software Development Life Cycle).
PLANNING

ANALYSIS

DESIGN

IMPLEMENTATION

TESTING & INTEGRATION

MAINTENANCE
LET US EXPLORE THE REASONS TO CHOOSE A CAREER IN SOFTWARE DEVELOPMENT.
CONTINUOUS LEARNING PROCESS:
Software Development is a continuous learning process that demands a developer's time and effort to gain some exciting results. A developer faces some challenges while writing code and he needs to overcome these obstacles to design a beautiful product and effective solution. Software engineers must be aware of the latest technologies to survive in the constant technological upgrading environment.
The software industry provides a pool of learning opportunities. Software developers have to be technologically updated by learning programming languages and technologies to adapt to the continuously changing environment. The developers always have the opportunity to develop and enhance their knowledge.
PROFESSION IN HIGH DEMAND:
Software Development is in high demand in the market. Technology is changing day by day and to cope with this technological advancement, companies require more software engineers to develop new software and design new smooth solutions in this competitive world.
UNBEATEN MONETARY BENEFITS:
The software development industry offers great salaries to developers. If a software engineer is talented then the company is willing to pay him a handsome amount along with other benefits like a car, house, holiday packages, bearing employee's child education expenses, and many more.
Nowadays, software developers are getting more remote work facilities. They do not need to come office daily. Developers can execute their work from anywhere and this was the reason during the lockdown, developers have done their work remotely and this facility is beneficial for the work-life balance.
Java is one of the most popular programming languages in software development. The future of Java development is great. Many organizations are adopting Java because of its versatile nature and it is highly in demand worldwide. Even many students/ aspirants take java training and Java Internship in Faridabad to gain practical implementation of Java. Java is the most secure, robust, platform-independent, and easy-to-learn programming language.
Nowadays, digital marketing is also in trend and has a great scope in the industry as it uses digital platforms like Social media, Google, and Youtube to advertise products and services. Many companies also promote their solutions, services, and products via digital marketing as it is economical compared to traditional marketing and has a wide reach to the audience. Students generally took training in digital marketing courses Online and Offline to start a career in Digital Marketing. Most of the students get the best Digital Marketing course in Faridabad and also grab the best opportunities in top MNCs and some of them also opt to work as freelancers.