Natural ingredients are always good, whether it comes to physical health or grooming care.
Mother nature has always been the best healing ingredient for us. Natural ingredients have the property to help nourish our skin and body while keeping away germs with their antibacterial properties. So nothing is better than using products full of their goodness.
We all use some the grooming products in our day to life. But with the growing number of men conscious of their beard health and growth, the men grooming industry is increasing. They are updating their moisturizing beard oil, beard growth oil, beard shampoo and conditioner, and serum daily with eye-catching advertisements and marketing. However, the beard is a natural and hormonal part of facial hair. But just like the other parts of our body, it's good to care for the beard.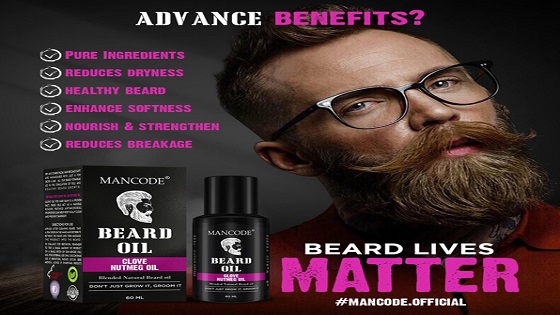 Men who want to keep themselves presented and fit are always in search of looking better. Men focusing on their beard growth and health have always looked for products and tips to keep them healthy and long.
There are lots of beard care companies and brands. So how do you know which one is good for you? How do you know which one is natural and chemical-free?
We can understand the situation of those new to this grooming world who have little knowledge about ingredients and their benefits. That's why we have come up with this blog to inform you about the drawbacks of harsh chemical products and how to choose the right natural products for yourself.
What to avoid and why?
You have the freedom to choose your beard care products except for these ingredients. The ingredients we will discuss here will not only waste your energy and time, but they can also make our skin and beard health worse. Sometimes they can damage the self-beard growth ability and make your beards looks frizzy and dry. As our beard is related to our face, we can't risk it. As when our skin becomes dry, the problem of flaky skin and an itchy beard will appear. Which is the most irritating thing among the men. It will affect both our facial skin and beard hair.
The ingredients mentioned below should be strictly avoided
Mineral oil
Sulfates
Petroleum jelly
Polyethylene glycol
Chlorine
Phthalates
Formaldehyde
These are extremely toxic chemicals that can lead to hair loss, hair breakage, dryness, and frizzy hair. However, ingredients like formaldehyde and phthalates are more poisonous and can cause dizziness, allergic reactions, hormonal changes, and more. These two ingredients should be strictly neglected even if they are less in percentage because every human has a different body and immune system. So we can't take a risk at any cost.
These ingredients can be present in any of our beard and grooming products like face wash, beard oil, serums, beard growth oil, beard serums/conditioners, beard balms, and other cosmetic products.
You can easily read the ingredients in the ingredients list given in the bottle or the cart. And don't forget to check their reviews on the internet as well.
Man code has a wide range of natural beard and men's grooming products and a particular website. They have pages on Instagram and Facebook as well. They make all their products with pure and effective ayurvedic and natural products. They are free from the toxic ingredients we mentioned earlier.
You can check their customer reviews on their website and read blogs on grooming and beard products. They will inform you about their products and general skin and health care tips. So you are getting all in one. You can easily order and buy their products with a click, and they will deliver them to your doorsteps. They have all kinds of nourishing and moisturizing beard oil, beard growth oil for longer and healthier beards, facewash to take care of your skin and beard, and many more. Just go to their website to know more about them.
What are the ingredients you should look for?
Now comes the biggest question: What type of ingredients do you need to grow beards.
Look for products with ingredients like argan oil, olive oil, jojoba oil, almond oil, castor oil, grapeseed oil, shea butter, avocado oils, amla, aloe vera, and coconut, and many more. Argan oil, olive oil, jojoba oil, shea butter, almond oil, avocado oil, aloe vera, and coconut oil work as moisturizing properties without clogging out the pores. Look for beard oils filled with these ingredients to get nourished and shiny beard hair.
Ingredients like amla will help restore vitamin C essential for skin and hair. On the other hand, castor oil helps to grow hair faster. So this is the perfect match for beard growth oil.
Essential oils are also effective in healing and soothing your skin while making them fresh and clear. The best essential oil would be tea tree, lavender, neem, lemongrass, cedarwood, and sandalwood. They all have calming properties and will work wonders on men's skin.
Final words
We taught you about the products you should look for. But don't think only products will do magic overnight. It would be best if you looked at your daily lifestyle and diet. Do some exercise daily to increase the blood flow. Proteins, vitamins, and antioxidants are much-needed nutrients for your health. And maintain your testosterone hormone because this one is vital in growing hair in men's bodies. Foods with zinc will help you to keep this hormone.
Cut out all the oily unhygienic oily foods and live a healthy lifestyle. If you lead your life this way, we assume no one can distract you from growing your dream beards.
Live healthily, stay happy.