Today, most people prefer checking the business website before purchasing anything. Seeking a website not only provides better details about the business but also assures that your business is reliable. A well-developed website means good chances of getting more customers. Creating a website is not enough until you make it according to the business which can provide good credibility and services. You have to make a website that benefits the business. Once the person creates a site, it helps the business grow.
Merits of web development in growing small business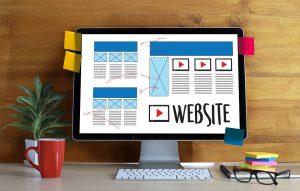 Provides credibility to the business
For a small business, gaining the trust of your customers is necessary. If your business is new then people can have trust issues because phishing scams are increasing per day. In 2020, people purchase most of the goods online due to Corona breakdown. An estimated $245 million were scammed due to online shopping. After the phishing attack, customers don't go for known businesses. To provide credibility, web development becomes necessary. The person can easily check the details about the product and business. If the customer doesn't find a web developed website for a business, they don't make a purchase. For providing legitimacy on the business, you can add several pages on the website like:
About Us page

Contact page

Contact Form

Reviews 

Testimonials

Other projects
When a customer gets more details about the business, he gets assured that your business is trustworthy and they will surely get their product delivered. 
Improves credibility against competition
When you enter into a business, you can see lots of competition. Your business is new and unknown but others have already gained a good name in the market. If you want to do business better then provide the customer with those services which are not provided by others. Your website will show more about your services. As a customer, they will check and compare the products. If the reviews on your site are better; they surely want to give it a try. Adding reviews and a contact page is necessary. People will trust the business even if there are few negative reviews. Getting all positive reviews from the customers is not easy. 
Boosts brand recognition
Your business may get brand identity but for a good sale, brand recognition is necessary. When identity means people find your business and make the sale. But brand recognition means people are recognizing your brand and are making repurchases. As a small business, you can link the website with several guest posts and comments. When people are reading related topics, they can easily find your business. Seeing the brand name in more and more places automatically improves brand recognition. If they find information about your business regularly then they will start trusting you and be eager to buy sometimes from your website.
Provides good connection to the customers
Good connections with the customs mean good sales. Your loyal customers make regular purchases and also bring new customers. If your website is well developed then making good connections is easy. Customers need an easy interface where they can choose the product and make payments easily. Along with the sale, exchange and returns services are also necessary. If your website offers all these services then it is like putting a face to the business where the customer is getting all the services he needs. Your business website should be developed in a way that can easily create connections. Websites with easy user experience and good personalization make stronger business connections. 
Small business web development helps in increasing sales
Walking to a mall after a 30 minutes drive just to buy jeans seems bothersome. Today people love online shopping as the customer can choose his products by comparing with hundreds of other products. If he can't get his product on one e-commerce site, there are numerous others. So, if you have a clothing brand then creating a website will help in improving the sale. Your regular customers will also find it convenient as they already trust your product and now they don't have to visit the store. After the pandemic, the online market is booming. The customer can find almost everything on the online stores then why they will visit the market. Without a site, you are losing potential customers. 
Better business growth
When your small business goes online, more people can reach you. In your store, only the locals can visit and purchase your goods. But when the business is on the internet, people can find your store from around the globe. It's up to you whether you want to sell your product within the country or worldwide. With good growth in your business, you may start worldwide shipping!
Easy digital marketing 
Digital marketing is necessary to grow your business. Instead of asking the wrong people for marking your business, use your website. The easiest and most common is social media marketing. You can create your business account on social media and find potential customers easily. But social media has become a hub for scammers. To show the legitimacy of the business, you should have a website where your customers can check and get reviews about the business. There are several digital marketing techniques but all work better if you have a website for your small business.
Good organic traffic 
Once you develop a site for the small business and then do SEO, you will start getting good organic traffic. Organic traffic means you are getting more visitors without paying. When the website of your business will rank on top search pages, customers will automatically trust your business. Customers mostly check and purchase products that are ranking good on the search engine pages. 
Easy Updates
When you develop a flexible website, you can easily make changes. Instead of doing lots of work, you can easily add/remove products, deals, discounts etc. Your whole become look more trustworthy and become transparent to you and your customers which reduces any confusion and makes your customer happy. 
Better customer service
If your website provides good customer service then customers will surely return to you. Many businesses offer good products but poor customer service. Anyone can have issues with the product regarding quality, size or color etc. If your website provides easy customer service then can directly talk to you and resolve all the queries.