INTRODUCTION:-
The place I love the most in Himachal Pradesh would be Bhavya Rajgundha. Second, in line is this valley called Tirthan Valley. This isolated and beautiful hill station provides an entirely different experience from the cities that its counterparts located in Himachal. Tirthan Valley, located between the mountains, and at an altitude of approximately 1600m, is an absolute paradise.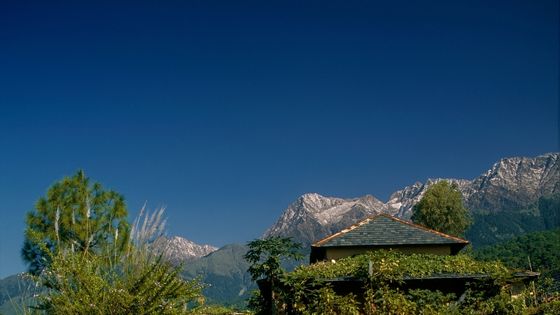 With stunning mountains, clear skies and a clean river running across the valley Tirthan Valley is a haven from the hustle and bustle of city life. It's a wonderful place to relax and get lost in nature. In this guide, I've included all the information needed to make a trip successful here. From dining to living to networking, this article will cover everything. But If you do decide to go to Tirthan Valley, ensure that you travel responsibly. There are numerous guidelines to travel to this area, about which the locals are strict. So, respect their homes and follow these guidelines when visiting Tirthan Valley.
DELHI TO TIRTHAN VALLEY WEEKEND GETAWAY:-
Tirthan Valley is situated at an altitude of 1400m and is bordered by the majestic Himalayan mountains. This waterside retreat is a well-known weekend escape from Delhi. This is due to all the adventurous activities one can take part in here. It can also be the primary entrance into the Great Himalayan National Park (GHNP) which is a UNESCO world heritage site. This is the reason it is so well-known recently.
Deriving its name from the Tirthan River, this valley is inside the Kullu district. And the river that gives it its name comes from Hanskund Peak located in the Great Himalayan National Park (GHNP).
Its breathtaking beauty and simple nature of the people and the valley offer a pleasant escape from the other places in Himachal Pradesh. Yes, it is getting more well-known among tourists however it could still be considered an offbeat place compared to other destinations such as Kullu Manali, Kasol, etc. One factor that separates this valley from other Himachal places is the picturesque villages in the Himalayas that remain a part of the old-fashioned architecture.
They are extremely friendly and down-to-earth and will do everything in order to help you feel you belong here. Another positive aspect of this location is that there's not much background noise, which means you are able to truly listen to nature's sounds. nature. From the sounds of the river flowing to the calls of birds, you can hear it and it all in silence which is the definition of bliss. And there are many amazing days here to enjoy breathtaking views and waterfalls. This means that there is no chance of being bored here. In fact, the wind from the mountains will help your body and help you get more fit and healthy.
HOW TO REACH TIRTHAN VALLEY:-
Let's now move on to the most crucial part of our trip: how to reach Tirthan Valley. Since Tirthan Valley is located in the hills, the only way to get to Tirthan Valley is via road, which isn't too difficult. The road leading to Tirthan is excellent and is well connected to the other parts of the country. The ideal way to get to Tirthan Valley is with your vehicle. However, in case you aren't able to, public transport options are readily available. In this article, we will go over all of the routes and transport alternatives available to get to Tirthan Valley.
ROUTES FOR REACHING TIRTHAN VALLEY:-
There are two main ways to enter Tirthan Valley, which are easily accessible by automobile or bike. Both the roads are beautiful and you can traverse the entire circuit to experience an unforgettable road trip. However, one route is more straightforward than the other. So be aware of this when you decide on your trip route.
BY AIR:-
The closest airport that is close to Tirthan Valley is Bhuntar located 48 kilometers away. It will take about two days to arrive. There are a few flights that connect with the other Indian cities with Bhuntar however the flights could be costly.
From Bhuntar, you can catch the bus until Aut and then go through the suggestions above or take directly a taxi. Which is about 2500- 3000 INR. You may also take a flight towards Chandigarh which is 134 kilometers far from Tirthan Valley. From Chandigarh, you can take taxis and buses which will get passengers up to Tirthan Valley in about 8 to 7-8 hours.
BY RAIL:-
The closest railway station to Tirthan Valley is Chandigarh Railway Station a ways off of 250 km. There are many trains connecting Chandigarh to all parts of India like Mumbai, Kolkata, Hyderabad, Kochi etc. You will be able to find an train. Once you arrive in Chandigarh, you can take either a regular or Volvo bus that will take you to Tirthan Valley which will take approximately 7 to 8 hours. The cost of a regular bus is around 500-450, while the Volvo is around 900. A private taxi ride from Chandigarh up to Tirthan Ghati can be arranged for approximately 5000 rupees.